This table attempts to catalog existing Potter proof presses of which there are 46 presses listed.
To add or correct data, use the Contact Form.
Please provide the following information:
• model name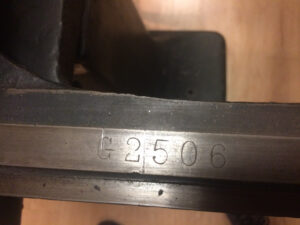 • serial number (located on the end of bed bearer, left of hand crank.)
• owner name
• location
• where or from whom it was acquired (to eliminate duplicate entries)
See also the main page for Potter.
| Model | SN | Owner | Location | Mfg./Notes |
| --- | --- | --- | --- | --- |
| 0 | 898 | Ben Stockman | Australia NSW Camden | A.F. Wanner |
| 0 | 874 | Dawson Print Shop at NSCAD University | Canada NS Halifax | A.F. Wanner |
| 1 | 3007 | Skyline Type Foundry LLC. | USA AZ Prescott | Hacker Manufacturing |
| 1 | 3588 | Boggs Graphic Equipment | USA OH Novelty | Challenge-Potter / WireBids 10/2014 |
| 1 | | Boggs Graphic Equipment | USA OH Novelty | Hacker Manufacturing / WireBids 2/2012 |
| 2 | C-21 | John Brown University | USA AR Siloam Springs | A.F. Wanner |
| 2 | 34 | Kansas City Center for the Ink & Paper Arts | USA MO Kansas City | A.F. Wanner |
| 2 | 510 | Kimball Hamilton | USA CA Los Gatos | A.F. Wanner |
| 2 | 667 | Acorn Anchor Book Arts Studio / John Jenkins | USA CO Fort Collins | A.F. Wanner |
| 2 | 677 | Florida State University | USA FL Tallahassee | A.F. Wanner |
| 2 | 681 | Goats & Compasses Press | USA VT Peacham | A.F. Wanner |
| 2 | 768 | San Jose Historical Museum | USA CA San Jose | A.F. Wanner |
| 2 | 961 | Black Iron Press | USA OH Toledo | A.F. Wanner |
| 2 | 1064 | Savannah Print Factory/Thomas Kazenske | USA GA Savannah | A.F. Wanner |
| 2 | 1144 | John Kulikoff | USA CA Rohnert Park | A.F. Wanner |
| 2 | 1297 | The Tight Squeek Press / John Hinkel | USA MN Duluth | A.F. Wanner |
| 2 | C 2035 | Spur Design | USA MD Baltimore | Hacker Manufacturing |
| 2 | B 2050 | Tip Type | USA PA Pittsburgh | Hacker Manufacturing |
| 2 | C 2070 | Tip Type | USA PA Pittsburgh | Hacker Manufacturing |
| 2 | C 2090 | Hazel & Violet INK / Nancy Hill | USA AZ Phoenix | Hacker Manufacturing |
| 2 | F 223 3 | B.S. Press | USA MA Somerville | Hacker Manufacturing |
| 2 | G 2436 | New Orleans Glassworks & Printmaking Studio | USALA New Orleans | Hacker Manufacturing |
| 2 | G 2479 | Private | USA PA Quarryville | Hacker Manufacturing |
| 2 | G 2506 | Jaffe Center for Book Arts/ Florida Atlantic University | USA FL Boca Raton | Hacker Manufacturing |
| 2 | G 2534 | Joseph Ringvelski | USA NY Ransomville | Hacker Manufacturing |
| 2 | G 2552 | Tribune Show Prinr | USA IN Muncie | Hacker Manufacturing |
| 2 | G 2599 | Josh Capistrant | USA MN St. Paul | Hacker Manufacturing |
| 2 | G 2703 | U. of Tampa | USA FL Tampa | Hacker Manufacturing |
| 2 | G 2721 | Craig Busteed | USA NH Derry | Hacker Manufacturing |
| 2 | G 2727 | Laura Master | USA OR Portland | Hacker Manufacturing |
| 2 | G 2823 | Steve Garst | USA IN Fortville | Hacker Manufacturing |
| 2 | G 2873 | Black Walnut Letterpress | USA OH Kirtland | Hacker Manufacturing |
| 2 | 2951 | Mara Fulmer | USA MI Atlas | Hacker Manufacturing |
| 2 | 3517 | Jeff Gold | USA PA Wayne | Challenge-Potter |
| 2 | 3577 | Bernard Klein | South Africa, Pretoria | Challenge-Potter |
| 2 | | Boggs Graphic Equipment | USA OH Novelty | A.F. Wanner (Made for ATF). WireBids 11/2014 |
| 2 | | James Bourland | USA NM Sante Fe | |
| 2 | | Michael de Hamel | New Zealand, Kaiapoi | |
| 2 | | Museum of Printing | USA MA Haverhill | |
| 2 | | Springfield Technical Community College | USA MA Springfield | |
| 3 | 1306 | Moonstruck Press/Tim Dunn | USA NH Keene | Hacker Manufacturing |
| 3 | 1374 | Craig Busteed/Green Turtle Press | USA USA NH Derry | Hacker Manufacturing. Formerly at John Falstrom's Perennial Designs. Oiginally at Barney Rabin Printing Marblehead, MA |
| 3 | 99-24-55 | Private | USA CA Murphys | |
| unknown | | Prints by A.J. | USA WV Point Pleasant | Hacker Manufacturing |
| unknown | | Seastone Papers | USA ME West Tisbury | |
| unknown | | U. of Pennsylvania | USA PA Philadelphia | |
---
Nameplate image courtesy of Austin Jones