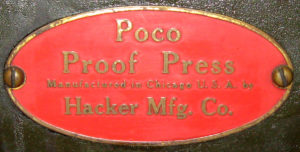 This table attempts to catalog existing Poco proof presses of which there are 68 presses listed. To add or correct data, use the Contact Form.
Please provide the following information:
• model name
• serial number (located on the end of bed bearer, left of the hand crank.)
• owner name
• location
• where or from whom it was acquired (to eliminate duplicate entries)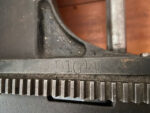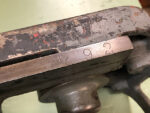 For more information see the main page for Poco presses.
| Model | S/N | Owner | Location | (Mfg) Notes |
| --- | --- | --- | --- | --- |
| 0 | 136 | HipCat Printery | Australia VC Newbury | (A.F. Wanner) |
| 0 | 532 | Directangle Press | USA NH Bethlehem | (A.F. Wanner) |
| 0 | 573 | Don Rooney / Wet Ink Studio | USA CA Grass Valley | (A.F. Wanner) |
| 0 | 590 | Ernst Shaefer | USA CA Santa Rosa | (A.F. Wanner) |
| 0 | 596 | Raychel Steinbach/Current Location Press | USA IL Chicago | (A.F. Wanner) |
| 0 | 633 | Dennis Couch | USA OH Mansfield | (A.F. Wanner) |
| 0 | 753 | Ashantilly Press | USA GA Darien | (A.F. Wanner) |
| 0 | 792 | St. Brigid Press | USA VA Afton | (A.F. Wanner) |
| 0 | 798 | Philip Hassett/Washboard Press | USA WI Madison | (A.F. Wanner) |
| 0 | 890 | Hamilton Wood Type Museum | USA WI Two Rivers | (A.F. Wanner) |
| 0 | D 1099 | Sainte Marie Press | USA MA Winchester | (Hacker) |
| 0 | D 1044 | Ilusion Grafica | Argentina, Buenos Aires, La Plata | (Hacker) |
| 0 | D 1126 | Hanscom Park Studio | USA NE Omaha | (Hacker) |
| 0 | D 1158 | Platen Press Museum | USA IL Zion | (Hacker) |
| 0 | D 1199 | Dawn Addleson | USA CA Oakland | (Hacker) |
| 0 | E 1288 | Ad Lib Press | Costa Rica, Turrialba | (Hacker) |
| 0 | E 1353 | Dawson Print Shop at NSCAD University | Canada NS Halifax | (Hacker) Formerly owned by Sherry Kwint-Cattoche |
| 0 | E 1356 | Peter Kruty | USA NY Brooklyn | (Hacker) |
| 0 | E 1520 | Keri Schroeder/Coyote Bones Press | San Antonio | (Hacker) With original cabinet. Formerly owned by Betsy Raymond |
| 0 | G 1534 | Hermetic Press | USA MN Minneapolis | (Hacker) |
| 0 | G 1675 | LuckyDogs LetterPress | USA CA San Francisco | (Hacker) |
| 0 | G 1720 | Eduardo Proazzi | Argentina, Buenos Aires | (Hacker) |
| 0 | G 1856 | Private | USA NY Newburgh | (Hacker) |
| 0 | G 1943 | Paulette Myers-Rich | USA MN St. Paul | (Hacker) |
| 0 | G 1623 | Canonymous Press | USA IA Iowa City | (Hacker) |
| 0 | G 1643 | Whistle Pig Press | USA MA Plainfield | (Hacker) |
| 0 | G 1973 | Parsons School of Design | USA NY New York | (Hacker) |
| 0 | G 2004 | The Birdhouse Press | USA VA Springfield | (Hacker) |
| 0 | G 2190 | Private | USA WI Chili | (Hacker) |
| 0 | G 2209 | Preston Briggs | USA WA Seattle | (Hacker) |
| 0 | G 2242 | Jennifer Brown | USA NH Bedford | (Hacker) |
| 0 | G 2240 | Big River Bindery | USA IA Davenport | (Hacker) |
| 0 | G 2266 | Boutique de Junque | USA IN Indianapolis | (Hacker) |
| 0 | G 2325 | The Norlu Press | USA NC Fayetteville | (Hacker) |
| 0 | G 2334 | Private | USA CA Mountain View | (Hacker) |
| 0 | G 2440 | Helios Editions | Australia VC Moorabbin | (Hacker) |
| 0 | G 2534 | Lynn Starun/Wood Handle Press | USA NJ Summit | (Hacker) |
| 0 | G 2542 | U. of Alabama | USA AL Tuscaloosa | (Hacker) |
| 0 | G 2917 | Atlanta Printmakers Studio | USA GA Atlanta | (Hacker) |
| 0 | 3225 | Mara Fulmer | USA MI Atlas | (Hacker) |
| 0 | | aMano Press | USA CA Hayward | |
| 0 | | ArsenalHandicraft | USA MI Detroit | (Hacker) |
| 0 | | Matt Braun | USA PA Pittsburgh | |
| 0 | | Nicole K. Docimo | Switzerand Zurich | |
| 0 | | Excelsior Press | USA NJ Somerville | |
| 0 | | Fairfax Press/Clair Dunn | USA VT Fletcher | |
| 0 | | Neil Giroux | USA FL Sarasota | |
| 0 | | Judith Mayer | USA IL Chicago | (Hacker) |
| 0 | | mirabel press | USA GA Cuming | |
| 0 | | Orren Kickliter | USA AL Mobile | |
| 0 | | Oak Root Press | USA CO Fort Collins | |
| 0 | | The Paper Airplane Press | USA MI East Lansing | |
| 0 | | Penelope's Press | USA IL Woodridge | |
| 0 | | Penland School of Crafts | USA NC Penland | |
| 0 | | Phaedra Paperie/Carly Bodnar | USA NY Brooklyn | |
| 0 | | Roxana Illuminated Perfume | USA CA Woodland Hills | |
| 0 | | Western New York Book Arts Center | USA NY Buffalo | |
| 0 | | Winking Cat Press | USA AL Mobile | |
| 2 | B 245 | Massachusetts College of Liberal Arts | USA MA North Adams | (Hacker) |
| 2 | B 529 | Pineapple Press & Design | USA OH Sylvania | (Hacker) With original cabinet |
| 2 | B 288 | Coyne & Wessling Letterpress Creations | USA NC Greensboro | (Hacker) With original cabinet |
| 2 | | Dolce Press | USA NY Bohemia | (Hacker) |
| 2 | | Foolproof press | USA IA Minburn | |
| 2 | | Samford University | USA AL Birmingham | |
| 2 | | Signal-Return | USA MI Detroit | |
| 2 | | Tribune Show Print | USA IN Muncie | |
| 2 | | Auburn University | USA AL Auburn | With original cabinet |
| 2 | | Lyceum Press | USA CA Anaheim | |