This page will provide information specifically about Challenge flatbed cylinder proof presses. While the manufacturer, Challenge Machinery Corp., is still in business they do not support this equipment. However, manuals for some models are available at challengemachinery.com
Some parts for the Challenge M series are compatible with the Vandercook SP series. Contact NA Graphics to confirm. See the Challenge census and Challenge patent pages. Model series included: E, GP, H, K,and M series
---
History
1893: Challenge Machinery Corp. was established after the dissolution of Shniedewend & Lee.
---
1931: Challenge acquired Potter and Poco brands from Hacker Mfg.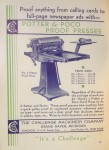 ---
1938: Challenge introduces its own line of proof presses.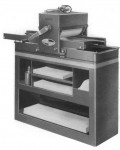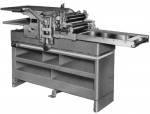 ---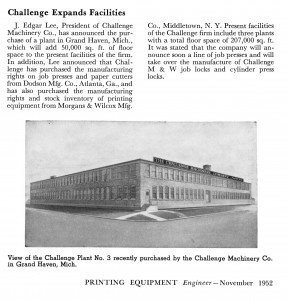 1952: Challenge expands its facilities.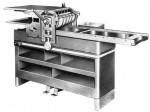 ---
1964: Challenge introduces the M series repro press, it's the first to feature a fixed bed and rolling carriage. Very similar to the Vandercook SP series.
1973 (?): Challenge stops making proof presses. Present: Challenge is still in business manufacturing paper cutters, drills, folders, and joggers.
---
Vandercookpress.info is not legally affiliated with any owners of the names Challenge, Hacker, Potter, Poco, or Vandercook.