Vandercook Presses: Maintenance, History and Resources
3rd Edition by Paul Moxon
This is the essential Vandercook reference book based on Paul Moxon's popular "Vandercook Maintenance" workshops, with notes on significant models and competing presses. This edition is thoroughly revised with more than one hundred additional drawings, photographs, and data tables.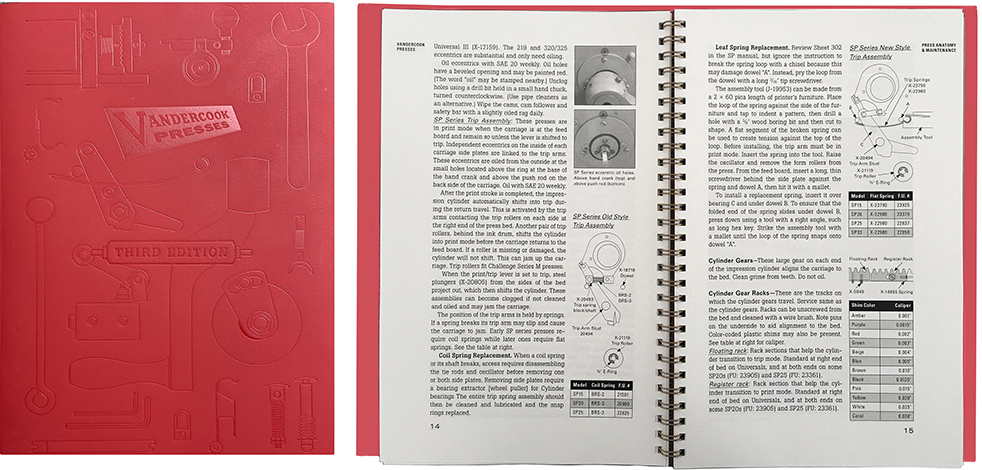 "Sections on how to repair your press will alone pay for the cost of the book over and over again….. An absolute must for the professional library, and the crème de la crème of press manuals."
Gerald Lange, from the Foreword to the second edition
---
20% Discount on copies with imperfect covers.
Availability is limited. This edition will not be reprinted.
To Order
Check or money order:
Paul Moxon
1059 Chalet Drive W.
Mobile AL 36608 USA
Shipping for orders received after April 6, 2021 will be delayed until April 26.
---
Organizations that hold this title:
| | | |
| --- | --- | --- |
| Alabama, University of | Longwood University | Scripps College Press |
| Albion College | Mackenzie Printery & Newspaper Museum | Signal-Return |
| American Philosophical Society | Massachusetts College of Art and Design | Silver Buckle Press |
| Arizona, University of | Minneapolis College of Art & Design | Smith College |
| Arizona State University | Mississippi, University of | Smithsonian Institution Libraries |
| Arkansas-Fort Smith, University of | Minnesota Center for Book Arts | Society of Northern Alberta Print-Artists |
| The Arm Letterpress | Mississippi State University | South Street Seaport Museum |
| The Armory Center for the Arts | Montserrat College of Art | Southeast Missouri State University |
| Art Academy of Cincinnati | Morgan Conservatory of Paper | Southern Illinois University—Carbondale |
| Auburn University | Mount Allison University | Southwest School of Art |
| Baltimore Print Studios | Museo Biblioteca La Casa del Libro | St. Bride Library |
| Bowling Green State University | Museum of Printing | State Library of Victoria [Australia] |
| BookWorks | Newberry Library | Stevenson University |
| California, University of, Los Angeles | The Ohio State University | Swarthmore College |
| California State University at Fullerton | Ohio University | Tampa Book Arts Studio |
| Carnegie Mellon University | Old Dominion University | Texas Woman's University |
| The Center for Book Arts | Ontario College of Art and Design | Thompson Rivers University |
| Charles Adams Studio Project | Oregon, University of | Towson University |
| Cleveland Institute of Art | Oregon College of Art & Craft | Transit Residency |
| College for Creative Studies | Otis College of Art and Design | University for the Creative Arts, Farnham |
| Columbia College Book & Paper Center | Nebraska, University of | Wisconsin, University of |
| Columbia University | Nevada, University of | Vanderbilt University Library |
| Copper Country Community Arts Council | Notre Dame, University of | Virginia Arts of the Book Center |
| Dartmouth College | Penland School of Crafts | Virginia Commonwealth University |
| East Carolina University | Praire Center of the Arts | Washington County [Oregon] Cooperative Library |
| em space | Pratt Institute | Washington University |
| Emily Carr University | The Printing Museum, Houston | Watkins College of Art |
| Evanston Print & Paper | Purdue University | Wells College |
| Florida State University | Rare Book School | Whitman College |
| The Flynstitute | Reed College | WMU Frostic School of Art |
| Genesee Center for the Arts & Education | Richmond, University of | Western New York Book Arts Center |
| Hamilton Wood Type Museum | Ringling College of Art & Design | Women's Studio Workshop |
| Hatch Show Print | Robert Blackburn Printmaking Workshop | Yale University |
| Hartford, University of | Rochester Institute of Technology | Zygote Press |
| Iowa, University of | Rollins College | |
| James Madison University | Ryerson University | |
| Kennesaw State University | Salt & Cedar | |
| Kimmel Harding Nelson Center | Salthouse Press | |
| Kent State University | San Francisco Center for the Book | |
| Library of Congress | School of the Arts Institute of Chicago | |