Hi Everyone!
I'm in the middle of aligning the Set Form Rollers on this old 232p.
Struggling somewhat….
But since I noticed something, I like to get some answers before going on:
1, 2, 3 are the roller unit carriage on the press.
A, B1, and B2 are rollers from the Upper Ink Unit.
Can you see the dent from what appears to be a wear on "1"?
The same "wear pattern" appears on the opposite side as well.
No apparent wears on "2" on either side.
If it they are wears, I suppose I could:
fashion a collar to go over the pipes on the unit
fill the gap with something or
make the part from scratch???
"1" and "2" are where the Set Form Roller Unit sits when the press is running: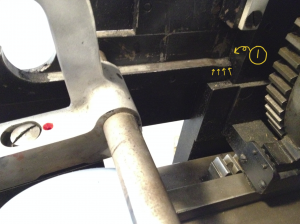 Arrows indicating a possible wear.
A closeup.
It seems that in order for "A" on the Upper Ink Unit to meet the right hand side set form roller (or for B2 to turn as a result of A making a good contact with the set form roller) the set form roller unit needs to move towards the left of the press. But I like to get some of your thoughts on the "wear" before going on since the roller height for the Set Form Roller that meets B1 can't be determined relative to the Set Form Roller Unit.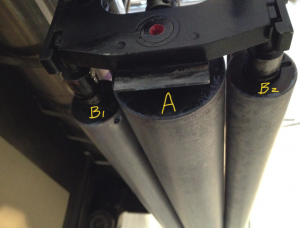 Am I making any sense???
THANK YOU!!!