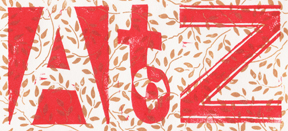 Deadline for Entries – March 15, 2013
Homegrown Alphabets is an exhibit intended to showcase the exciting ways in which type design and printing come together to form refined letterforms as well as wildly experimental letterforms. Homegrown Alphabets will be on exhibit in the BookWorks Gallery, May 1 – June 30, 2013
We're seeking type specimen sheets or pangrams that feature your innovative or experimental alphabet. These pieces can be one-sheet poster-style or folded pieces. Alphabets can be generated by any means possible but must be translated into a print process such as the following: letterpress, linocut, laser cut, woodcut, photopolymer, or offset lithography. Entire alphabets are wildly anticipated, or maybe you have carved one big amazing letter, we'd want to see that too! A new take on an old typeface is fine, as long as it has been altered in someway. The point is to showcase homegrown typography and the printmakers who make it happen! Experiment, go wild, or rein it in and work on your x-height. We want to see it all. Juror: Eleanor Annand.
Use our NEW, completely digital, on-line Entry process
Deadline for Entries: March 15, 2013
Up to three pieces may be submitted
Three images per piece may be submitted
$20 non-refundable entry fee covers one, two or three pieces