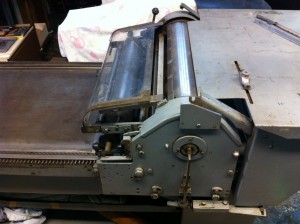 I am in the process of getting our SP25 up and running and the first order of business is realigning the cylinder carriage so that the grippers are at the "12 o'clock" position when at the feed board.
Does anyone have any suggestions of the best way to adjust this?
During a class with Paul Moxon I was told you sometimes have to roll the carriage off the end of the bed in order to rotate the cylinder and realign the cylinder gears on the gear rack. Is this the best method or should I consider removing carriage bearing assembly and bumper-spring blocks (which are below the under rails) in order to lift full carriage and rotate handle to correct orientation?
I found this post about the process for a No. 4 which was able to be done while on the press:
https://vandercookpress.info/vanderblog/2012/07/aligning-vandercook-no-4-cylinder-carriage/
Is this also possible on an SP25?
Side Note: once carriage is realigned, will the handle follow the adjustment? When the grippers are at 12 o'clock the handle currently falls a little above 3 o'clock.
I will most likely adjust the handle at some point but as of now it doesn't seem to pose a problem in printing, besides slight inconvenience in accessing the lever to the inking assembly.
Thanks a lot!
Mason Milani – Morgan Conservatory – Cleveland, Ohio