Hello, this is Britt at Banshee Press in Denver.  I am having a problem with my Vandercook Model UNI-I, Serial # 24389 with auto carriage.
On the trip cycle, the carriage balks with an abrupt jerk – sometimes to the point of stopping – at 21 1/2″ measured from the feed-board end of the press.  (It does not balk on the print cycle, only returning from printing on trip.) I have tried:
Complete clean and lubrication of all parts.
Made sure press is perfectly level on both axes.
Adjust the drive clutch, both over and under adjusted.
Visual inspection for obstacles and impingements.  Tighten all screws and bolts.
Remove, clean and adjust cylinder racks so they move smoothly and accurately.
Remove form rollers. (no effect)
Remove gripper bar. (no effect)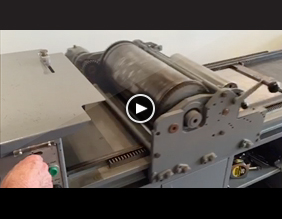 The effect is more pronounced and 100% incident in manual mode. Less pronounced in cycle mode (sometimes doesn't happen at all in cycle mode.)
The effect is more pronounced with a polymer plate on the base, running under pressure.  The effect seems to be more pronounced the longer the carriage sits at the open end.
The impression is not uneven, nor is the inking.
I have attached a brief video showing the problem in manual mode.
Any suggestions?  Thank you so much for your help.
Britt