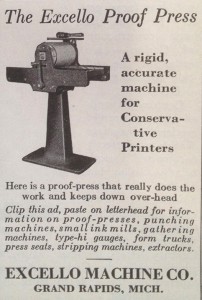 This display ad appeared in most issues of Graphic Arts Monthly, vol. 1, 1929, but does not appear thereafter. Neither was it advertised or mentioned in The Inland Printer or Photo-Engravers Bulletin before, during, or after 1929. (Perhaps, there wasn't enough interest in this product, and likely Black Tuesday—the infamous crash of the stock market on October 29—prevented the manufacturer from subsequent advertising.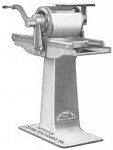 With its tapered pedestal, the Excello, a reciprocating bed press, looks similar to a  No.  0 Potter proof press (at right), which likewise has neither paper grippers nor an inking assembly.  On the Excello, notice the low position of the hand crank indicating that it drives the underside of the bed instead of the impression cylinder as is common with reciprocating bed presses.
Established in 1926, the Excello Machine Co. had by the early 1940s specialized in converting Miehle production presses to die cutters. They also fabricated a hand-fed letterpress (platen?) which was marketed throughout the U.S. In the 1950s, Excello became a dealer for the Miehle Co., which imported Man Roland offset presses and is still in business, servicing these presses.
An email to the company did not yield a reply. Records on this machine have likely been lost and no example is known to exist. Excluding Vandercook, there are now 37 other makes of proof presses in the Lesser Known Brand List.