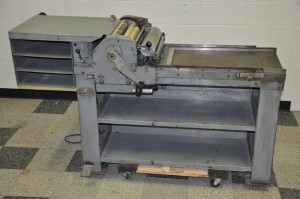 I am selling my Vandercook SP15 proof press. I have had it for about 5 years and purchased it from a man whose family had run a long time print shop in the Atlanta metro area.  The serial # is 23805, inspected by H. L. Keller. This is a wonderful press but for the type and scale of work I am doing I really don't need a press of this size. Hoping to find it a new home where it can be put to good use.
It is currently listed on eBay where you can find more pictures and specs:
http://cgi.ebay.com/Vandercook-SP15-Letterpress-Proof-Press-Printing-SP-15-/230613427037?pt=LH_DefaultDomain_0&hash=item35b1a1a35d
or just go to eBay and search for "Vandercook SP15".