Fritz sent me this drawing of a No.4 cylinder showing its position at the feed board. It is posted for the benefit of Klu, and other tenacious individuals who dare to restore long-abandoned presses from which lesser mortals would have walked away. –PM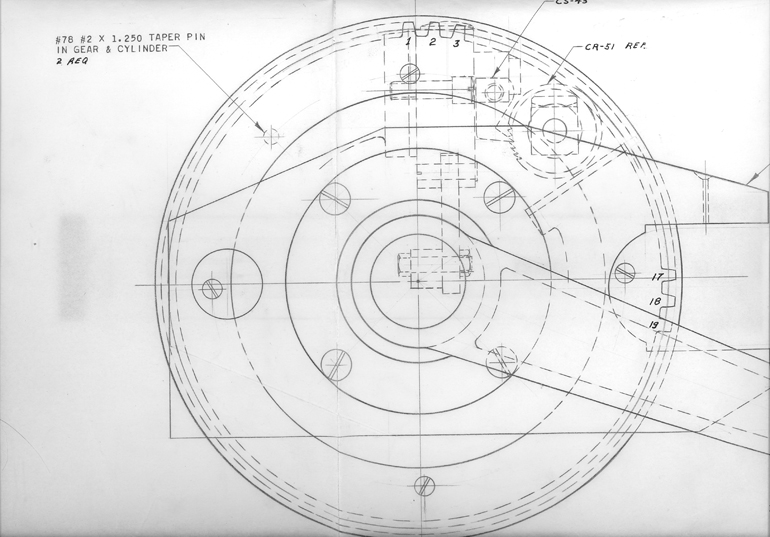 The excerpt below was originally posted 10-11-06 by Paul Moxon on "PPL":http://groups.yahoo.com/group/PPLetterpress in response to klu's request for guidance in replacing the cylinder on a No.4. It is posted here for archive purposes:
Reinstalling a Cylinder on a No.4

Remove the gripper clamp bar from the cylinder.
Reinstall the two short sections of gear rack on each side of the bed.

Set the carriage back onto the bed and allow the cavity of the cylinder to face up. This is where it wants to balance itself.

Look at the storage cabinet beneath: The cylinder gear and rack is on the cusp of engaging when the carriage is centered over the left wall of the tall bin (middle storagespace). Now gently slide the carriage to this position, but stop just before engagement.

Hold the carriage firm but rotate the cylinder toward the feed board until the surface where the clamp bar mounts is almost 180 degrees facing down. Move the carriage unto the rack and slowly roll it back to the feed board.

The cylinder is correct when the gripper clamp bar mounting surface is 90 degrees. On your first attempt the cylinder will probably lean foward (toward the bed) meaning you are only a tooth or two off. If so so the carriage forward off the gear rack and try again. Patience.

Also: the best position to install or completely remove the gripper clamp bar is when the mounting surface is 180 degrees facing up as this does not stress the mounting screws.