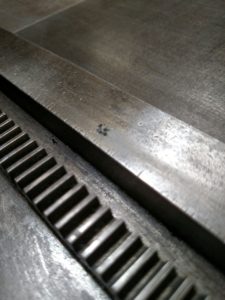 Hi Paul, On page 15 of your book, you explain that if you allow grime and so forth to accumulate on the bedrails or cylinder bearings, you will see metal flakes appear on the bed rails.
I have been printing a book for the last few months, probably 300 press runs per day 3 days a week. In the last few weeks, I noticed these very accumulations starting to appear. I wiped everything down thoroughly, cleaned the hard felt blocks on the cylinder scraper assembly, but I keep seeing this little pile of flakes. I have taken to wiping the rails and cylinder every 100 runs, and I have noticed that the flakes and the thin grey film of grime is limited to the outside half of the rail and cylinder bearing.
Have I failed to properly adjust something? I am getting good, even printing on 100 lb paper. I have the kimlon blanket and a drawsheet (old paper tympan) for packing beneath a mylar tympan, and a single thin sheet of newsprint also in there, so I don't think it is too heavy on the packing. (I don't feel any resistance when I print).
Any insight or advice would be deeply appreciated. Like I said, printing is going great, but I am worried I am doing irreparable damage.