Hi all, I'm the new caretaker of an SP 20 (serial 23442). I've been investigating a carriage jam issue and have found that the trip assembly on the non-operator side of the carriage (X-21755) is sitting much lower than on the operator side. Because of this, the rogue trip arm has been scraping against the trip rollers (Z-21119) especially the one closest to the feed board. This damage is very noticeable since all trip rollers were recently replaced and the ones on the operator side are pristine. Additionally, when the Print/Trip lever is put in trip, the non-op trip arm just grazes past the steel plungers (X-20805) and does not shift the cylinder eccentric. The result is a half-trip half-print cylinder.
I have taken care to level the press bed. From what I can see peering inside the carriage, the trip springs are intact and in place. Could the carriage bearings be THAT out of whack? I have only attempted tentative bearing adjustments following Paul, Fritz and Gerald's instructions.
The first photo shows the trip arm assembly on the operator side when the carriage is at the feed board. Seems okay. The second photo shows the wacky trip arm assembly on the non-op side.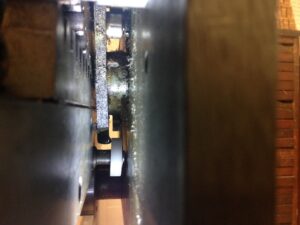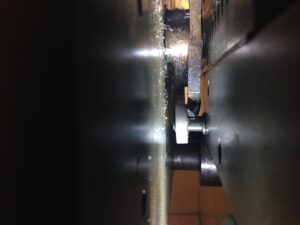 Any advice would be super appreciated.