Well, after 25 years of printing on Vandercooks, I encountered a new problem today. There is a 1/2″ strip across the whole sheet that is not printing with the correct impression. It is illogical, but it seems that the carriage raises up just for that line of type and then goes back down.
The press is inking fine, but not making an impression in that area. Impression is fine before and after that line.
I was printing a 12×18 sheet of paper with a photopolymer plate. The area in question is about 17″ inches into the carriage run.
Is there anything that could cause the carriage to jump up and then back down randomly? One print will be fine and then 6 will be bad. 10 will be good and 2 will be bad.
I watched the rails on the opposite side of the press as one of my staff turned the carriage back. Didn't see anything unusual.
Bottom print has impression, Top prints do not.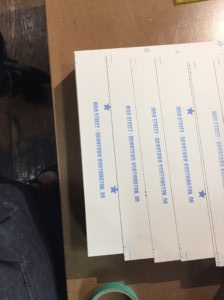 Ink is picked up from the area with impression, but not off the line in question.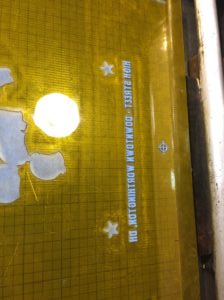 Any thoughts?