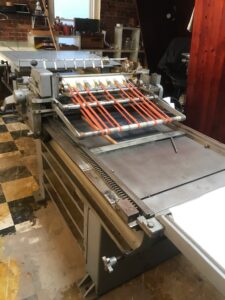 May I get your thoughts on removing the auto paper feed feature on my newly acquired Vandercook 325 A. It is fully operational, with no missing parts. I will be printing multi-color woodcut posters on it. It seems to me at this early stage to be a whole lot of fuss for not enough gain. Though it is a delight when the paper is sent to the delivery tray without touching the cylinder, I already foresee a few issues. First among these is the need to have the casters that move the paper come in contact with the impression side of the page. Even if I work "clean" with clear margins the chances of these casters getting gummed up with ink and marring an image is high. Also, an issue is cleaning the tympan in the very likely event I accidentally print on it. Other issues are the extra space the delivery tray needs, and the visual clutter over the top of my block.
After a good look at the manual, I see that the trip wedge would need to be replaced, (am I right about this?), and I am concerned there might be other mechanical necessities that would need to be addressed.
I am not married to the idea of removing it, and will try to make friends before I commit.
Some things I would be helpful are some pro tips if anyone has experience with the A or G with this feature. Any resources like instruction on how to calibrate this feature when setting up for a job, and lastly any good pro or con thoughts on why this feature was desirable. Since I'm already walking to the end of the bed what am I gaining by not touching the paper? I'm interested in the original reason for this costly add on. Did it significantly improve operation?
Thanks in advance.
Lpixley