Happy New Year all —
I have a question for the masses – I'll try to keep this concise. The shop I work in has a 325 that has forever seemed to have issues. We solved it various ways – extra packing being one, realizing it needed a bed plate was another (that helped!). We also know that when it was moved into the space, it was disassembled and moved (whereas most were hauled up intact).
Whilst printing some large pages recently, I decided something was truly wrong with the press. With some encouragement from my usual support, I disassembled the Trip/Print rack assembly. . .
Long story short, I've decided was reassembled mis-aligned. In other words, when on the Print setting, the print cylinder ran too high.
So, the simple question for you is, if you recall (or if you're feeling ambitious enough to inspect – please do this at your own discretion… I don't want to hear that you've misaligned yours) – does your Cylinder Trip Rack / shaft have one, two, or three dimples on it? (See below) Mine has 3, I'm thinking dimple B should not exist, and probably not dimple A either. These lock with a sprung ball-bearing inside the casing. Furthermore, does dimple C seem to be the proper distance from the the Cylinder Trip Rack? My theory says A and B were worn into the steel over years of misuse, and C is the proper height for print.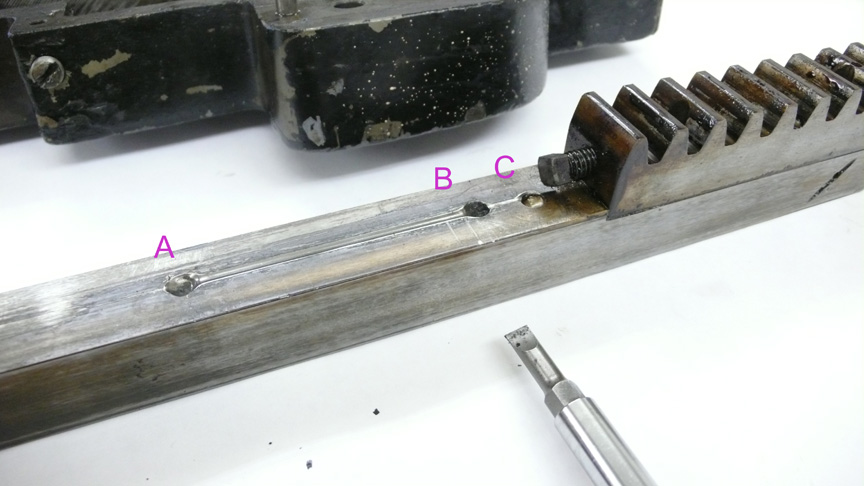 Thoughts?
The follow-up question then might be: what do I look for to realign the gear and rack to the proper teeth?
Thanks!