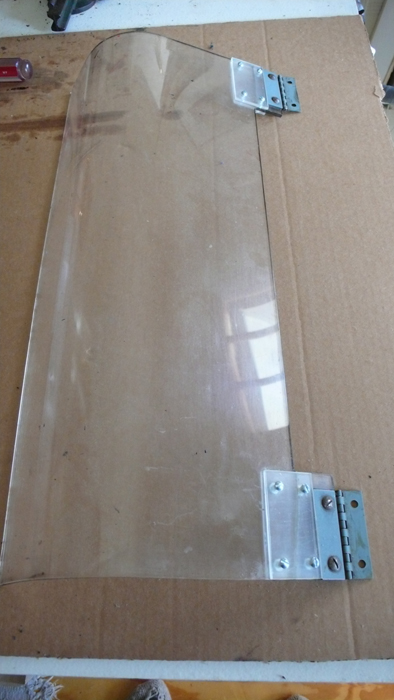 Universal Is [and other v-cooks?] have an optional dust cover which is, because of the design, often broken. They seem to break at the same point, the transition from dust cover to attachment tab. I believe that the dust cover should have been made without the cutout in the center, which would have prevented the failure in the first place.
This is a very simple repair, something anyone can do, but I don't think it would have occurred to me if I hadn't seen it on one of the presses at the King Library Press. The Universal I there has the dust cover repaired using one plexi patch and 4 screws on each side. It works but still flexes a little at the break. I improved on this repair by using a patch above and below the break. Plexiglass can be purchased from any glass store, and can be cut by scoring & bending just like glass. Finish the sides with sandpaper. Clamp the four pieces [2 original broken pieces, top patch, bottom patch], one side at a time, and drill holes with a normal drill. Use appropriate size bolts & nuts to hold it all together. This works very well and extends the stress into the wider part of the dust cover, so it shouldn't break again.
Hopefully, your broken dust cover hasn't been thrown away. I got lucky, maybe you will too.
hope this helps – alex, press eight seventeen – lexington kentucky