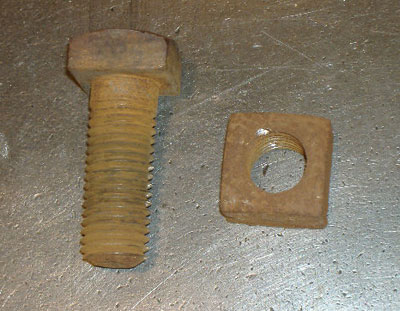 Happy 9-18 Day. The owner of a No. 4T wants to know whether his press has a galley height bed. He mentions that the undercut is .070″ and also wants to know the dimensions of the leveler's feet, one of which is apparently missing.
The simplest way to find out the height-to-paper of the press bed is to place a metal type sort on the bed against the bed bearer. If the face of the sort is level with the bearer then the press has either a .918″ height-to-paper bed or it is a .968″ bed with a .050″ galley plate in place. This method will also work to calibrate an adjustable bed press when the gauge is misaligned or otherwise damaged (e.g. Universal I).
The 4T was designed to pull transparency proofs in addition to standard repro proofs. It is my understanding that all of them have .070″ cylinder undercuts.
The leveler feet, are simply large bolts fitted into the feet of the press and are only necessary when a press is installed on an uneven floor. The bolt is 3/4-10, meaning the diameter is 3/4″ and the thread pitch is 10 to the inch. The length is 2″ (excluding the head). A suitable bolt can be purchased at a hardware store, but the head and nut will have six sides instead of four.-PM