Hello –
I have a few questions about my Reprex No. 2. I was hoping some other Reprex owners might be able to share some operational insight. Thanks in advance!
In the Reprex PDF it is recommended to lubricate the following items:
cam shaft, cams, and linkage in ink system lifting mechanism
rider and form roller bearings
ink distributor drum shaft
either face of the knurled feeding knob and on the screws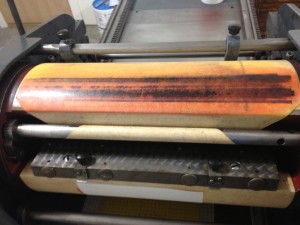 I know where these parts are generally located (except knurled feeding knob), but need some help identifying the individual parts that the manual refers to. Also, when you oil a bearing where do you actually insert the oil?
I am also having a problem with the oscillating drum printing on the very end of the tympan (1-3 inches). It's the edge of the tympan right before it wraps around the reel rod (opposite end of the grippers). It seems that the (ink lifting?) mechanism that houses the motor, oscillating drum, and automatic wash up area does not shift downward on the return stroke. The cylinder actually seems to bump the ink lifting mechanism (?) into the correct position hence printing on the tympan. Is this normal? It doesn't seem right at all.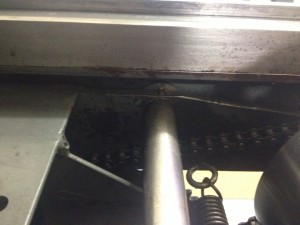 Let me know if you'd like to see pictures and I can upload a few. Many thanks!
Video: