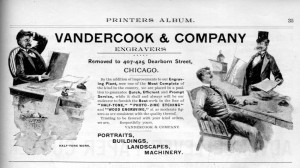 Revised. Author and printing historian Stephen O. Saxe sent me this advertisement he found in the June 1890 (and following) issues of The Printers' Album, the house publication of Schniedewend & Lee, a printing equipment manufacturer in Chicago.*
Vandercook & Company was operated by H.R. Vandercook and F.N. Tucker, circa 1880-1910. It was a separate business from the press building company established by R.O. Vandercook, a cousin, in 1909. Any mention of R.O. having worked there has yet to be found. Published profiles of him state that his printing experience goes back to when he was ten years old, graduating from Northwestern University in 1888 where he established a printshop. Soon after, he was managing the Evanston Press newspaper. Below is a Vandercook & Company bill head in the collection of Paul Moxon.
*When the partnership between Paul Schniedewend & James L. Lee ended in 1903, Lee formed Challenge Machinery Corp. in Grand Haven, Michigan, which is still in business.