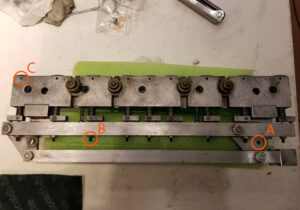 As a result of a plumbing mishap a few weeks ago I have had to clean and re-lubricate the gripper bar on my Universal III AB. In the processes of doing this I've run into a few questions and potential problems, and I want to get clarification if I can before I do anything incorrectly. I would appreciate any information as my review of the .pdf manual I have, nor Vandercook Presses 2nd ed. have cleared my admittedly muddled understanding.
I have posted this photo of the removed gripper bar, there appears to be a rather thick 3/4″ dia washer/roller with a fillister head machine bolt+nut possibly missing at position (A) which is present at the other end of the arm. Any thoughts?
(B) these threaded pins have a nut (Jam nut?) and look as though they can be adjusted? would this alter how high the grippers open?
(C) small holes which are painted with red enamel which makes me think they are lubrication points for the grippers? They were previously caked with black gunk, I had assumed they were set screws all this time until I cleaned them up to find empty holes.
I don't want to take disassembly/lubrication any further than this until I am more confident in what I am looking at.
Thank you for your time and expertise.
-J.Lay