Hello all – –
I had the great fortune of saving an SP20 from the scrapyard earlier this Spring. However, it was not quite as complete as I remembered it being when I first found it last Fall.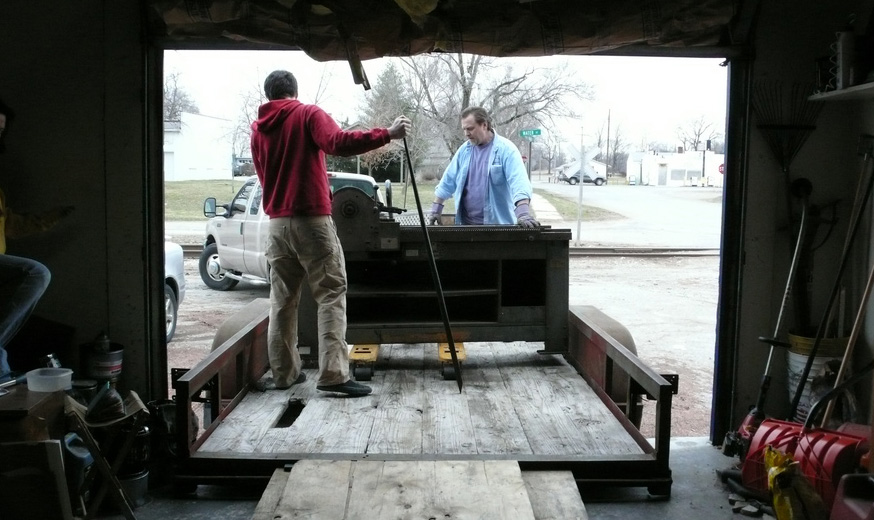 Someone clearly attempted to dismantle it sometime in its history, then abandoned it, and the only old pressman in the shop claims that it had always looked like this. I smiled and nodded and agreed that indeed, they never had a feedboard or handle, clearly.
Mechanically it is sound, a diagnosis confirmed by Perry Tymeson a week or two back. And thankfully I work for a school with one of these which I have dismantled before, so working through guts and gears of this thing doesn't really faze me.
That said, I'm missing a few really critical parts. Most notably, a feedboard, a crank-arm, and a paper-guide. Less critical but still important, a lock-up bar would be nice.
The rollers are rock-hard, but they are straight and true, so nothing too scary there.
The first question is, are there some surplus parts out there? I've already resigned myself to the fact that I'll end up making some of these. I have access to a metal-shop and foundry, as well as fabricator friends who are always up for a challenge. I am planning on having a new feedboard cut and bent this summer, and casting my own crank-arm.
In terms of casting the crank-arm, I may do it first in aluminum (easier, immediate), and seeing if I can at least machine it properly. Friends will be doing iron pours this summer, and if all goes well, I may follow up with a re-casting of it then, (closer to traditional). I'd like to think I can machine something with some semblance to a paper-guide, but I'll even agree that's pretty ambitious.
Of course, I'm attempting all of this because I like a challenge and am stubborn, but if some of these already exist in the world, I'll probably fold and just buy them.
Also, finally, if you've read this far, can anyone confirm that the earlier SP20s were designed pre-trip-springs? Perry and I looked at it for an hour or so and decided they were never present. The SN is 22466, made in mid-1962.
There are probably other parts and pieces missing – I haven't had the chance to really delve into some of the nitty-gritty. I will no-doubt post again as restoration gets underway.
The photos of my trial-by-fire will be well documented here.
Thanks all.
Kyle.