Hi all – –
I thought I'd offer up a link to some fun for your 3 day weekend.
In honor of Vandercook's 100th, I put together a little papercraft version of my SP20 to share with everyone. Don't know what papercraft is?
It's this: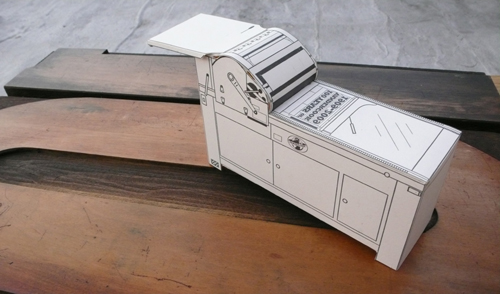 Make your own SP20 at any size you're willing to print. Feeling crazy? Scale it up to 1370% and build it life-size! (Your individual impressional strength may vary).
Available as a PDF and an EPS file for infinite-scalability.
The files, larger photo, and legalese are all over at Baltimore Print Studios.
And for the very sharp-eyed, the model above was the prototype version of the final file.
And for the nerds, yes, I printed it on an SP20.
Have a great weekend!